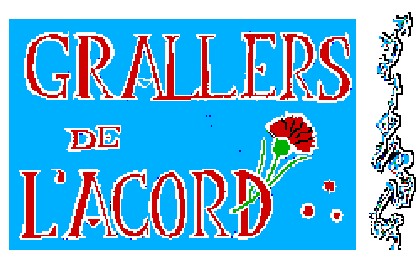 THE MUSIC OF L'ACORD

The Grallers de l'Acord, a folk quartet from Vilanova i la Geltrú in Catalonia, Spain, has been an established group since October of 1979, at which time they weren't yet well-known. Since its formation, however, this group has combined research into the traditional folk forms with popular adaptations into a gralla of new rhythms and harmonic horizons.

All over Catalonia, the Grallers have played in concerts, in the streets and at dances of gralles on their own or with other similar groups. On various occasions they have also participated in popular activities such as village dances, castellers (human towers), and street fairs.

In addition to the musical support provided to other traditional folk groups, the Grallers have also done many tours abroad, playing in Provence, Portugal, Great Britain and Italy, among other places, to much acclaim. They have made certain that the traditional melodies of their unique instruments are heard and appreciated outside of their region of Spain.

In 1994 they played with the Companyia Elèctrica Dharma, a Catalan and Fusion music band, on their 20th anniversary tour (they recorded together 20 Anys de Dharma).

In 1995 they contributed with their music to the show Identidades (Identities), a play of La Cuadra de Sevilla, a well-known company from Andalucia, directed by Salvador Tábora.

Recording history:

Watch out! Here come the giant and his wife. Cassette. 1983.

Grallers of L'Acord. Compact disk. 1993.

Collaboration in the recording of the "Spring Music Festival of Barcelona" (Tradicionàrius) 1991 and 1994.

20 anys de Dharma. Compact disk. 1994

At present they are preparing a new compact disk for 1997.

Technical specifications: Because the amplification of their instruments is difficult, whenever possible the group prefers to play with only a single mike. If this is not possible, it would be necessary to have a sound rehearsal of approximately an hour and a half in which each instrument would be provided with its own mike, in addition to a general mike or 'overhead'.

NOTES:

GRALLA: Musical wind instrument similar to the clarinet, belonging to the hornpipe family.

GRALLERS: People who play the gralla.
---